The Emerging Golden Triangle of SMEC

Singapore, Middle East and China?

Strategic Long Term Investment and Wealth Management Strategy

London, UK - 2nd May 2008, 08:18 GMT
Dear ATCA Colleagues
[Please note that the views presented by individual contributors are not necessarily representative of the views of ATCA, which is neutral. ATCA conducts collective Socratic dialogue on global opportunities and threats.]

Singapore, Middle East and China (SMEC) are together configuring the emerging Golden Triangle of strategic long term investment and global wealth management according to extensive research carried out by the mi2g Intelligence Unit and the ATCA Research and Analysis Wing (RAW) with major financial institutions and wealth managers over the last six months. As a result, Lee Hsien Loong, the Prime Minister of Singapore, is poised to become the most powerful man in global wealth management and large scale financial deal making in the early part of the 21st century. His father, Lee Kuan Yew, is the city-state's de facto Chairman or Minister Mentor, and his wife, Ho Ching, is the Chief Executive of Temasek, one of the two Singaporean Sovereign Wealth Funds (SWFs).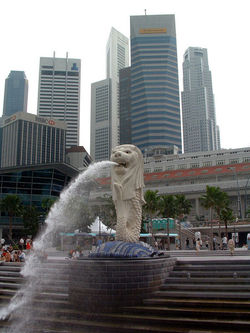 The Merlion, Singapore
The Prime Minister of Singapore might dismiss the idea, but the recent crumbling of the world's most powerful financial institutions suggests there is a ring of truth to the SMEC Golden Triangle phenomenon with Singapore emerging as the newly cloned Switzerland of Asia! In the 21st century, Singapore is rising to clinch the once-in-a-lifetime "Great Unwind" investment opportunities in the West. Injections of USD 11bn, USD 7bn and USD 5bn into UBS, Citigroup and Merrill Lynch respectively have helped consolidate Singapore's place on the global financial landscape.

The future vision for the Singaporean economy is based on ...

[CONTINUES] [ATCA Membership]

Whilst Western money managers are pouring into the Middle East in the hopes of attracting its fast-growing pools of petro-dollars, the Islamic Finance is more comfortable with the Far East as epitomised by the easy flow of strategic investment and wealth management funds to Singapore, China, India, Malaysia and Indonesia for new projects and safe-keeping. The SMEC golden triangle developed jointly by Singapore, China and the Middle East is ...
[ENDS]

To reflect further on this, please click here and read views as well as respond directly within the online forum.

We welcome your thoughts, observations and views. Thank you.
Best wishes