G7 Digest – Key ATCA Tweets – China, Euro Crisis and Bank Tax
London, UK - 7th February 2010, 16:00 GMT
Dear ATCA Open & Philanthropia Friends
[Please note that the views presented by individual contributors are not necessarily representative of the views of ATCA, which is neutral. ATCA conducts collective Socratic dialogue on global opportunities and threats.]
The highlights of the G7 finance ministers meeting in Iqaluit, Canada, are presented as a series of @ATCAOpen tweets: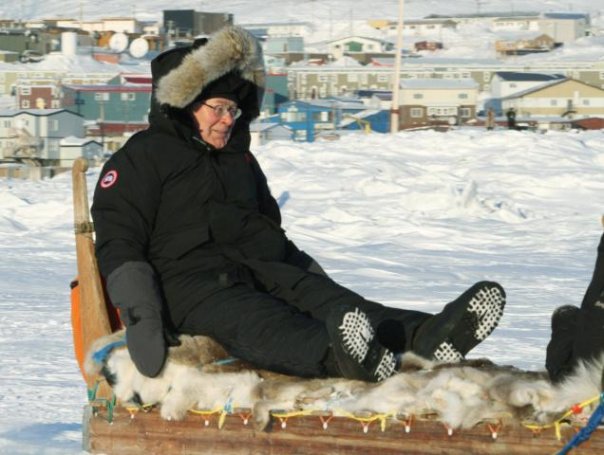 Governor of the Bank of England Mervyn King rides a dog sled in Iqaluit, Canada, at G7 meeting.
New Approach
. G7 officials liked no-nonsense, informal format of Iqaluit talks, which allowed them to speak their minds openly and free them from communiqué.
. 'Open speech, not working out communiqués, that is the meaning of the new G7': German Finance Minister Wolfgang Schaeuble.
Unusual Start
. G7 ministers started meeting with dog sleds near the Arctic Circle: ride was aimed at displaying 'folksiness' and 'back to basics'. http://ow.ly/14Fbw
Haiti
. G7 told earthquake-ravaged Haiti that any debts it owes them needn't be repaid and international lenders should do the same. http://ow.ly/14FkE
China
. Japanese Finance Minister Naoto Kan told G7: Tokyo focusing on China's economy as it is showing signs of a bubble. http://ow.ly/14Fi9
. G7 discussed Yuan concerns: 'This is an issue that cannot be avoided' Canadian FM Flaherty said. 'It's a G20 issue too.' http://ow.ly/14FeY
. G7 pushes for more exchange-rate flexibility: Major economies with inflexible currencies must consider strengthening them. http://ow.ly/14FmZ
. Yuan too weak? G7 agrees to push China to float its currency in line with a policy established in Istanbul in October. http://ow.ly/14F7L
. Japan suggests discussions on China's yuan could take place in wider G20 developed and emerging economies summit of which China's a member.
Euro Crisis
. Euro's worsening crisis cast shadow over G7 summit with Spain and Portugal threatening to spiral into Greek debt crisis. http://ow.ly/14Frz
. Japan's Finance Minister Kan: G7 discussed European nations' sovereign risk and the state of the Chinese economy. http://ow.ly/14FCt
. G7: no need for IMF to bail out eurozone; JC Juncker, chairman, Eurozone finance ministers: must solve problem ourselves. http://ow.ly/14Jc7
Stimulus
. Fragile: G7 finance ministers issue warning in Iqaluit that governments should not withdraw economic stimulus too early. http://ow.ly/14F1R
Bank Tax
. G7 warms to idea of bank levy to insure global economy against future financial crises: Transaction tax or deposit fee? http://ow.ly/14Fw9
Conclusion
. Arctic G7 meet ends with cautious optimism: Canadian FM Flaherty says there are 'good signs' that worst's over at wrap-up. http://ow.ly/14F3V
. G7 wraps up without consensus on bank reform. Geithner: it would be premature to introduce substantial regulatory reform. http://ow.ly/14FAE
. The next G7 finance ministers' meeting will be on the sidelines of the International Monetary Fund's spring meetings in Washington.
[ENDS]

We welcome your thoughts, observations and views. To reflect further on this subject and others, please respond within Twitter, Facebook and LinkedIn's ATCA Open and related discussion platform of HQR. Should you wish to connect directly with real time Twitter feeds, please click as appropriate:
. @G140
. Open HQR
. DK Matai
Best wishes