Massive QE: Death by Insulin Overdose?
London, UK - 10th June 2013, 18:10 GMT
Dear ATCA Open & Philanthropia Friends
[Please note that the views presented by individual contributors are not necessarily representative of the views of ATCA, which is neutral. ATCA conducts collective Socratic dialogue on global opportunities and threats.]
When one observes the present market volatility one is minded to think of insulin as a metaphor for QE. Insulin, like Quantitative Easing (QE), in large quantities is a killer. Insulin is much more subtle and effective than arsenic or any other fatal poison. When the victim dies because of a deliberate insulin overdose it is difficult to diagnose the cause of their death in a post-mortem. With arsenic or any other fatal poison it is easy because it leaves traces.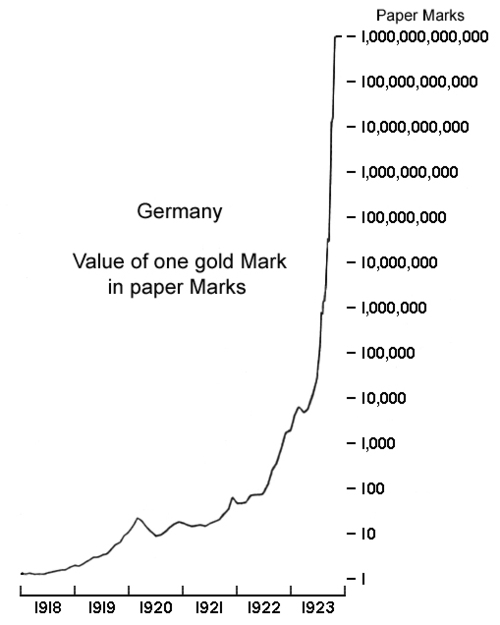 Effect of Quantitative Easing (QE) on the German Economy
QE is more like insulin than any other conventional poison. When a given economy suffers horrendously because of a QE overdose, just like with insulin, it is difficult to pinpoint the blame at QE alone. Other external triggers and factors can always be found to take the blame. Massive QE can ultimately lead to extreme financial markets volatility and geo-strategic instability because of erratic currency devaluations. Those can, in turn, lead to trade imbalances as well as regional or global conflict.
Let us not forget the 1930s and beggar-thy-neighbour currency devaluation policies. So it is always possible to blame a radical political movement or zealot for starting the conflict when in fact it was the QE insulin overdose that started the snow avalanche. Let us also heed the lessons of the German Kaiser and the Weimar Republic's QE experiment which ultimately manifest as hyperinflation between June 1921 and January 1924. As a result of QE during the First World War between 1914 and 1919, the exchange rate of the German mark against the US dollar fell steadily from 4.2 to 8.91 marks per dollar and kept on falling after that. However by November 1923, each American dollar was worth 4,210,500,000,000 or 4.21 trillion German marks, which weakened the Weimar Republic so much that president Hindenburg assumed emergency dictatorial control over Germany in 1930 paving the way for the megalomaniac despot who assumed control in 1933. In the early 1920s, German economists justified that QE over dose as necessary to monetise government debt and to revive the German economy post the First World War and to pay war damages to the United Kingdom, France and other allies post the Treaty of Versailles. All that monetary indiscipline ultimately led to 'Mein Kampf', the strengthening of the NAtionalsoZIalistische Deutsche Arbeiterpartei (NAZI German workers' party) and fascism. That fascism spread from Germany to Italy and Spain and across most of Europe under the dominance of Berlin.
Are we on a rhyming conflict path in the Asia Pacific region between the US, Japan, China, Koreas etc given the massive QE-induced devaluation of the US dollar and the Japanese yen? On a global scale, the dollar's greater volatility and renewed erratic devaluation witnessed in the recent period is also likely to affect political stability across the world. Food and fuel inflation is linked to the dollar purchasing power which is eroded because of massive QE. Some have traced the Arab-spring and associated Jasmine revolutions with Self-Assembling Dynamic Networks (SADNs) to the last round of dollar devaluation which caused the purchasing power in regard to basic commodities of many emerging market sovereign nations to fall dramatically. On this occasion the consequences may also be felt in the northern part of the Club-Med nations, ie, Southern Europe, Asia and Latin America and perhaps closer to home within the US. Mark Twain once said that history does not repeat itself, it rhymes! Which "New Ode to QE" is being formulated now and how will it end?
[STOPS]
What are your thoughts, observations and views? We are hosting an Expert roundtable on this issue at ATCA 24/7 on Yammer.
[ENDS]
Expert Roundtables
Expert roundtables are the newly launched ATCA 24/7 Q&A private exclusive club service. They seek to become the killer application in strategic intelligence by delivering an unprecedented competitive advantage to our distinguished members. They can only be accessed online at https://www.yammer.com/atca
Q1: How to become a privileged member of ATCA 24/7 to participate in the expert roundtables?
A1: i. If you are a distinguished member of ATCA 5000, ATCA Open, The Philanthropia or HQR affiliated groups you may be allowed to become a privileged member of this new and exclusive private club.
ii. If you are pre-invited, visit the private intelligence network -- PIN -- by going to https://www.yammer.com/atca [Note: In https:// 's' is for security and encryption]
iii. If you don't have membership of the PIN yet, email the mi2g Intelligence Unit at intelligence.unit at mi2g dot com for an exclusive invitation.
Q2: How to participate in the expert roundtables and get domain-specific strategic intelligence questions answered?
A2: Access the ATCA 24/7 Private Intelligence Network -- PIN -- online and ask or answer a strategic intelligence question, no matter how complex. Receive expert answers within 24 hours or get pointers from:
i. ATCA 5000 experts who are online;
ii. ATCA Research and Analysis Wing; and
iii. mi2g Intelligence Unit.
Q3: Why is the ATCA 24/7 Q&A Exclusive Club special?
A3: ATCA 24/7 has now created an exclusive private intelligence watering hole and expert roundtable at the highest level where interesting and sophisticated questions are being asked from around the world, and intelligent answers are being provided, almost always by experts who have deep domain-specific knowledge. Come and check out the exclusive club, take it for a strategic test drive, which sign-of-intelligent life are you waiting for?
To learn more about "The Expert Roundtable: ATCA 24/7 Q&A Club" email: intelligence.unit at mi2g.com and if you are already a member visit https://www.yammer.com/atca
We welcome your thoughts, observations and views. To reflect further on this subject and others, please respond within Twitter, Facebook and LinkedIn's ATCA Open and related discussion platform of HQR. Should you wish to connect directly with real time Twitter feeds, please click as appropriate:
. @G140
. Open HQR
. DK Matai
Best wishes