Flights Resume: New Standards For Civil Aviation Rewrite Rules
London, UK - 21st April 2010, 09:01 GMT
Dear ATCA Open & Philanthropia Friends
[Please note that the views presented by individual contributors are not necessarily representative of the views of ATCA, which is neutral. ATCA conducts collective Socratic dialogue on global opportunities and threats.]
-- Update 28, Wednesday April 21st at 09:01hrs GMT --
In a surprise move, the entire UK airspace was set to reopen from 2200hrs on Tuesday April 20th, the Civil Aviation Authority (CAA) announced. CAA is UK's independent specialist regulator with oversight of aviation safety. Its new guidance has been issued in conjunction with the Irish Aviation Authority (IAA) and covers the Anglo Irish Functional Airspace Block (FAB).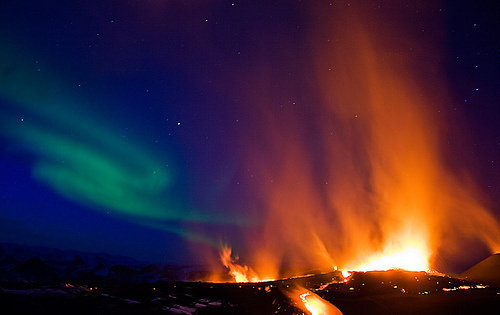 Eyjafjallajökull Glacier Volcano, Iceland
In effect, the CAA has rewritten the rules governing flying through volcanic ash clouds by relaxing standards. As a result, CAA chairwoman Dame Deirdre Hutton said none of the no-fly zones caused by the volcanic ash cloud are currently over Britain. Transport Secretary Lord Adonis said all British airports could reopen and he expected them to remain open. The new guidance allows a phased reintroduction from 2200hrs on Tuesday April 20th of much of the airspace which was closed due to the volcanic ash plume over the UK.
The announcement gives the green light for all UK airports to reopen, bringing welcome relief to the 150,000 tired Britons still stranded overseas and desperate to get home. Restrictions had already been eased in Scotland and some parts of northern England, but London's airports -- including Heathrow, the busiest air hub in Europe -- remained closed. There will continue to be some "no fly zones" where concentrations of ash are at levels unsafe for flights to take place, but very much smaller than the present restrictions. Furthermore, the Met Office advise that the 'no fly zones' do not currently cover the UK.
According to the official statement:
"Making sure that air travellers can fly safely is the CAA's overriding priority."
"The CAA has drawn together many of the world's top aviation engineers and experts to find a way to tackle this immense challenge, unknown in the UK and Europe in living memory. Current international procedures recommend avoiding volcano ash at all times. In this case owing to the magnitude of the ash cloud, its position over Europe and the static weather conditions most of the EU airspace had to close and aircraft could not be physically routed around the problem area as there was no space to do so. We had to ensure, in a situation without precedent, that decisions made were based on a thorough gathering of data and analysis by experts. This evidence based approach helped to validate a new standard that is now being adopted across Europe."
"The major barrier to resuming flight has been understanding tolerance levels of aircraft to ash. Manufacturers have now agreed increased tolerance levels in low ash density areas."
"Our way forward is based on international data and evidence from previous volcanic ash incidents, new data collected from test flights and additional analysis from manufacturers over the past few days. It is a conservative model allowing a significant buffer on top of the level the experts feel may pose a risk."
"In addition, the CAA's Revised Airspace Guidance requires airlines to:
. conduct their own risk assessment and develop operational procedures to address any remaining risks;
. put in place an intensive maintenance ash damage inspection before and after each flight; and
. report any ash related incidents to a reporting scheme run by the CAA.
The CAA will also continue to monitor the situation with tests both in the air and on the ground."
BA and BAA
Willie Walsh, chief executive of British Airways, welcomed the lifting of the restrictions. He said: "Safety has been at the forefront of everybody's minds while reaching this decision. We are now going to start the difficult task of getting our stranded customers home. This is an airlift which has been unprecedented." He added that "lessons can be learned" and "there will be plenty of time for a post mortem of what has happened over the last few days."
Heathrow operator BAA has said that they will do everything possible to "get people moving" and warned travellers that regular flight schedules would not return immediately.
Europe
The Brussels-based Eurocontrol air traffic agency said more than half of Europe's 27,500 daily flights were expected to have flown by the end of Tuesday. Eurocontrol said it was optimistic the situation would be back to normal in a few days' time.
Air France said it would resume all long-haul flights from Wednesday, although medium-haul flights in northern Europe would stay suspended. Norway has reopened all of the country's airspace until midnight. Elsewhere in Scandinavia, airports in north-central Sweden were operating, although Stockholm's main airport was being closed due to the ash cloud. Germany extended its flight ban to midnight, although 800 flights were allowed to fly visually at lower altitudes. Swiss and northern Italian airspace has reopened. The airline industry says it has been losing more than USD 200 million per day since the turmoil began last week.
[ENDS]

We welcome your thoughts, observations and views. To reflect further on this subject and others, please respond within Twitter, Facebook and LinkedIn's ATCA Open and related discussion platform of HQR. Should you wish to connect directly with real time Twitter feeds, please click as appropriate:
. @G140
. Open HQR
. DK Matai
Best wishes