Nick Clegg: How to Build a New Economy?
London, UK - 27th April 2010, 00:28 GMT
Dear ATCA Open & Philanthropia Friends
[Please note that the views presented by individual contributors are not necessarily representative of the views of ATCA, which is neutral. ATCA conducts collective Socratic dialogue on global opportunities and threats.]
It was a great pleasure to meet Nick Clegg, leader of the Liberal Democrats, in Westminster recently. We are grateful to Mr Clegg for his personal submission to distinguished members and friends of ATCA and The Philanthropia. At present, Mr Clegg is riding high in opinion polls prior to the May 6th UK General Election. He writes: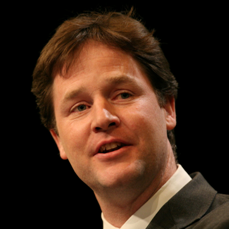 Nick Clegg, Leader of the Liberal Democrats, UK
Dear DK and Friends
Re: How to Build a New Economy?
With the campaign at its most hectic, I am delighted to spend a few moments in London setting out where the Liberal Democrats stand on building a new economy.
There can be no denying that the global economy has undergone a shock the scale of which few of us alive today have experienced before. The UK now faces challenges within our economy that are without precedent. The government chosen at this election will inherit a budget deficit of around 12 percent -- well above the 3 percent target set by the EU -- which will require the biggest fiscal contraction since the Second World War. The old habits and mantras of economic management simply will not do. It's time for something different. And if we are prepared to do things differently, we can -- out of the rubble of the banking crisis –- build an economy that is stronger, greener and fairer.
Vince Cable and I have identified GBP 15bn worth of savings, spelt out in black and white in the back of our manifesto, two thirds of which will be used for deficit reduction. These plans are more than we have had from either of the old parties, but of course we will need to go much further. So in government we will hold a full public consultation to help identify the remaining savings. We must avoid the experience in Greece, where the imposition of austerity measures has led to widespread industrial strife and social upheaval. Getting the public finances in order will require tight spending rounds for years to come; it will only be possible if we take people with us. At the same time we will demonstrate to the business community that we will take steps to develop a sustainable economy.
In order to do that, we must also make it clear to people that we will not let history repeat itself. So Liberal Democrats will diminish that risk by breaking up our banks to insulate retail functions from high-risk investment activity, as the Governor of the Bank of England advises.
We'll build a new economy, in which high-tech, low-carbon industries will be able to thrive. As a first step we will fund a GBP 3.1bn green infrastructure package, paid for by making cuts elsewhere in government, so that we can invest in burgeoning green industries like renewable energy. And in the new economy we'll place a much greater value on equity, rather than simply tolerating debt. So we will introduce innovative financing mechanisms to help businesses grow, including Local Enterprise Funds and Regional Stock Exchanges.
I spent ten years working in Europe, part of which negotiating trade deals with China and Russia on behalf of the European Union. I learnt the importance of an internationalist approach and the need for the right kind of relationships both within the EU and with the USA and the key economies in Asia. I also learnt that the most successful economies – not just those that grow, but those in which growth is sustainable and fair –- are those economies that can adapt. That is what I want for Britain; it is the change that only the Liberal Democrats can deliver; and now, in this election, where all bets are off, we have a chance to make it happen.
We are in the final ten days of the campaign which on May 6th will bring a decision that will shape the future of Britain.
I look forward to responding to your questions. Thank you.
Yours sincerely
Nick Clegg
Nick Clegg is MP for Sheffield Hallam and Leader of the Liberal Democrats in the United Kingdom. Nick Clegg was born in 1967, the third of four children. His half Russian father was a banker, and founder of the Daiwa Anglo-Japanese Foundation. His Dutch mother was a part time teacher of children with special educational needs. He was brought up bilingually in Dutch and English and also speaks Spanish, French and German. Clegg was educated at Westminster School in London, and then at Robinson College, Cambridge. At Cambridge University, Clegg studied Archaeology and Anthropology. After university he was awarded a scholarship to study at the University of Minnesota for a year, where he wrote a thesis on the political philosophy of the Deep Green movement. He then moved to New York, where he worked as an intern under Christopher Hitchens at The Nation. Clegg then moved to Brussels, where he worked for six months as a trainee in the G24 Co-ordination Unit, which delivered aid to the countries of the former Soviet Union. After the internship he took a second Masters degree at College D'Europe in Bruges, where he met his wife Miriam Gonzalez Durantez. They have three sons.
Career
In 1993, Nick Clegg won the Financial Times David Thomas Prize, set up in memory of David Thomas, a FT journalist killed on assignment in Kuwait in 1991. He was the first recipient and was sent to Hungary, where he wrote articles about the mass privatisation of industries in the former communist bloc. He then took up a post at the European Commission, working in the TACIS aid programme to the former Soviet Union, which he took up in April 1994. For two years he was responsible for about Euro 50m in direct aid to central Asia and the Caucasus. He was involved in negotiations with Russia on airline overflight rights, and launched a conference in Tashkent in 1993 that founded TRACECA – the Transport Corridor for Europe, the Caucasus and Asia, or The New Silk Road. Trade Commissioner (now Lord) Leon Brittan then offered Clegg a job in his private office, as an EU policy adviser and speechwriter. Clegg was in charge of the EC negotiating team on Chinese and Russian accession talks to the World Trade Organisation.
Member of the European Parliament
On his election in 1999, he was the first Liberal Democrat parliamentarian in the East Midlands since Ernest Pickering was elected MP for Harborough in 1931, and was credited with helping to boost the Liberal Democrat poll rating in the region in the six months after his election. In Europe, Clegg co-founded the Campaign for Parliamentary Reform, which led calls for reforms to expenses, transparency and accountability in the European Parliament. He was Trade and Industry spokesman for the Alliance of Liberals and Democrats for Europe (ALDE), and led on legislation for "local loop unbundling", opening up telephone networks across Europe to competition. It was the fastest piece of legislation ever to go through the parliament, and the subject of an in depth BBC Open University documentary on EU decision making.
Leadership of the Liberal Democrats
Nick was elected leader of the Liberal Democrats in December 2007. He has since called for the Liberal Democrats to become the party of the family, focusing on social justice, education and opportunity. In July 2008 set out the party's direction of travel for the next general election, stressing the need for practical solutions to everyday problems, and proposing major tax cuts for low and middle income families. As Leader he has pledged to reach out to new voters and double the Liberal Democrats' representation within two parliaments.
[ENDS]

We welcome your thoughts, observations and views. To reflect further on this subject and others, please respond within Twitter, Facebook and LinkedIn's ATCA Open and related discussion platform of HQR. Should you wish to connect directly with real time Twitter feeds, please click as appropriate:
. @G140
. Open HQR
. DK Matai
Best wishes